Hey all,
Like many here, I've tried a gazillion different holsters over the last few decades and these days I have some real strong feelings and preferences on holster selection.
Absolute favorite holster maker
These days it's Eric Larson at HBE Leatherworks. Used to be Milt Sparks, but Eirc has him beat these days (but Sparks is still first rate in every way).
I'm all about IWB holsters, and HBE's Com III has been a fantastic performer for me. First with my Hi Power, and currently with my 1911's (and I have one on the way for an anticipated purchase of a CZ P01). What I love about it. Well it's exceptionally well made, looks fantastic, but it's made with concealed carry well in mind. The leather is as thin as you can get and still maintain first rate quality. It DOES NOT have the reinforcement at the mouth of the holster, which is great for a range holster but wholly unnecessary for a daily CC holster. It has really NOTHING that doesn't absolutely NEED to be there, and everything that does. the extension to cover the grip safety and hammer make this holster exceptionally comfortable.
Here's my HBE Com III after 9 years of carry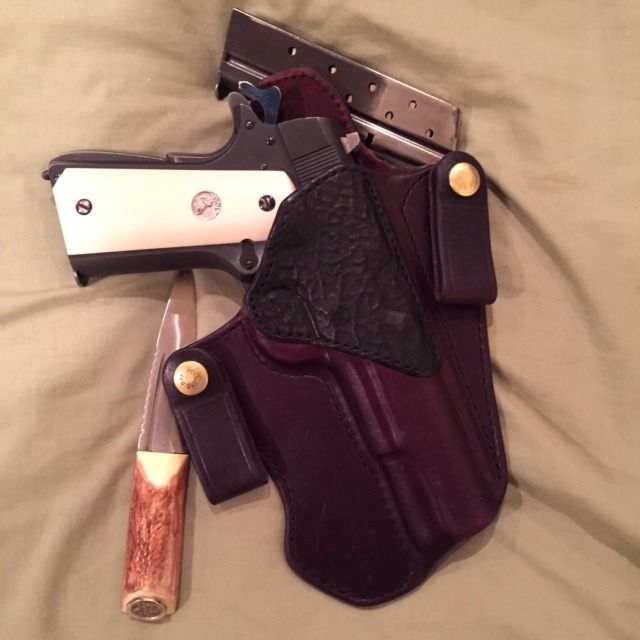 Milt Sparks VM II is one of the most popular holsters out there, and for good reason; it's world class in every way. These days I'd rather have the Sparks Criterion, but the VM II has served me SO well over the years. The VM II has a couple things I don't care for in a CC holster. Leather is thicker than I prefer, reinforcement at the mouth, and the risers on the belt loops; all of which could be done away with to the betterment of this holster (and have been on the Criterion). Still, even with "features" I don't care for, this is a straight up world class holster and one of my absolute favorites.
After 12 years of carry she still looks nearly new.
I'm also a HUGE fan of the Mitch Rosen ARG design as designed by Massad Ayoob; it's an outstanding design (carrying in one as I write this). The one belt loop rather than two works out perfectly. I don't have a preference between one or two belt loops, but I'm here to tell you the front loop really doesn't matter. Ayoob had it right when he came up with this design, it carries exceptionally well.
A less expensive and perhaps more versatile knock off of the Rosen ARG is the El Paso Saddlry "C-Force". The leather is thinner, it's rough side out, and the boning isn't nearly as precise which ends up making the holster a bit more versatile when it comes to what you can stuff in there. Mine can fit my Beretta 92 or my CZ 75, or a Sig 229/226/220; all of which will stay put perfectly depending on how much I cinch my belt. But I carry my full sized Beretta 92 about as easily as I carry my LW Commander in my HBE holster; that's impressive.
Here's the thing about the C-Force. It really doesn't look like a really "nice" holster, or it doesn't look all that impressive. But it carry's just as well as the Rosen ARG, it's cheap at around or under $80.00 to your door, and generally you'll have your C-Force in around 3-5 weeks, rather than 3-5 months. I personally think it's the best deal in an IWB holster these days...but I'm not giving up my HBE anytime soon.
Something I've found as a pattern with holsters over the years.
- Belt is just as important as the holster
- Holster is as important, or even more important than your choice in handgun (oh yeah, I went there!!)
- Buy top quality, and you only buy once (I may sell guns, I DON'T sell holsters)
- Cheap holsters often lead to just not carrying the weapon you bought that holster for
- You can get world class gunleather at a reasonable price (EPS C-Force, Rosen ARG Expres Line)
- It's nice to own a "BBQ" holster; you just like putting it on more when it looks fantastic...even if you're the only one who knows how fantastic it looks
So what are your favorites and why?